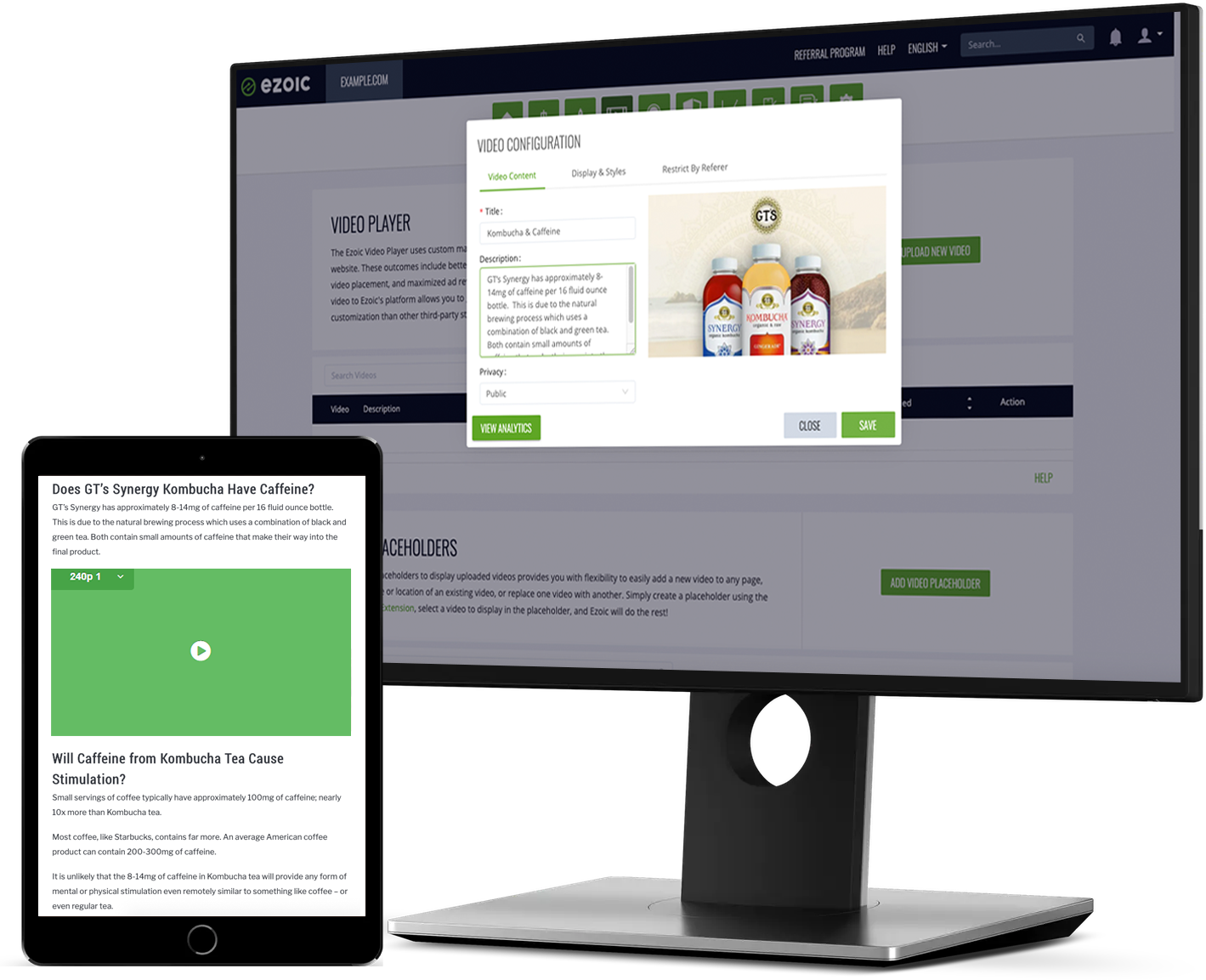 Ezoic's Video Player
DIRECT CONTROL & INTELLIGENT OPTIMIZATION
Host video on your site and earn higher revenue from video views. Ezoic intelligently provides features for uploading, testing, inserting videos on different pages, and indexing them in search engine results. 
Sophisticated A.I. meets video
IMPROVE SEO
Use artificial intelligence to improve SEO by implementing video when it adds value, not when it doesn't
INCREASE VIDEO VIEWS
Ezoic's Video Player improves users experiences by learning who, what, when, and where video works best on a site
GET TRAFFIC FROM VIDEO
Ezoic makes it easy to have videos indexed in search engines; generating more traffic to publisher sites
MAXIMIZE AD REVENUE
Monetizing video outside of walled gardens produces significantly higher ad revenue on video
GROW TRAFFIC & EARN HIGHER REVENUE
---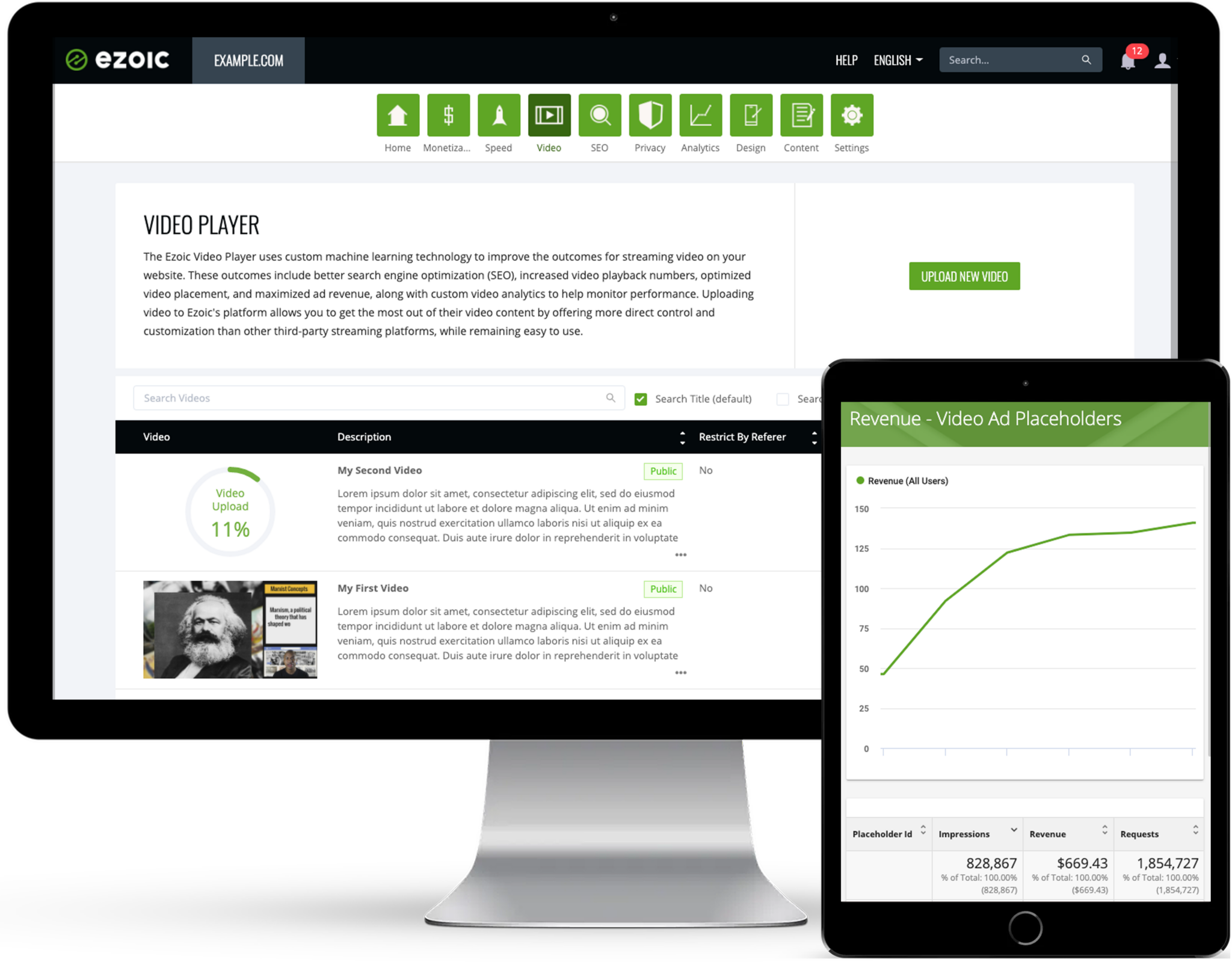 Earn more money & take back control
Publishing through Ezoic Video gives publishers the opportunity to upload their videos and feature them on their website to earn money directly from advertisers competing for their ad space. Ezoic allows sites to have video directly indexed in search results, removing the need for platforms like YouTube.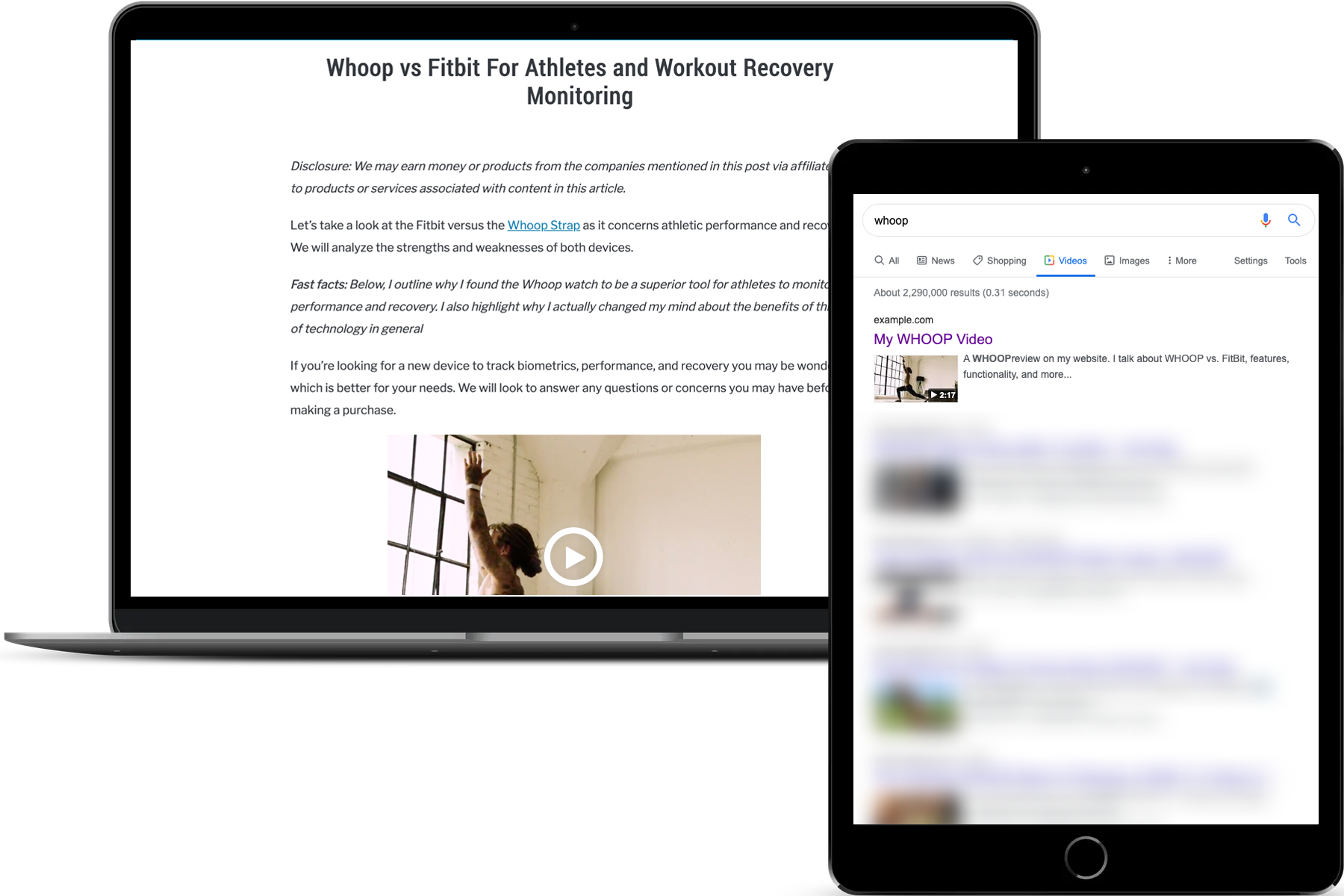 More traffic, better engagement
Ezoic makes it easy to upload and display videos on your site while having them indexed in search results. Ezoic's A.I. ensures sites maximize engagement, views, and search engine traffic without relying on major video platforms for reach.
READY TO TEST EZOIC?
Get started with your free trial now
AN END-TO-END VIDEO HOSTING SOLUTION
---
Setup is as easy as drag-and-drop
Simply upload video content, create a placeholder using the Ezoic Chrome Extension, and select preferences for which videos to display in the placeholder. With Ezoic's Video Player, sites can easily:
Add a new video to any page
Replace one video with another
Change the size or location of an existing video
Monetize your video content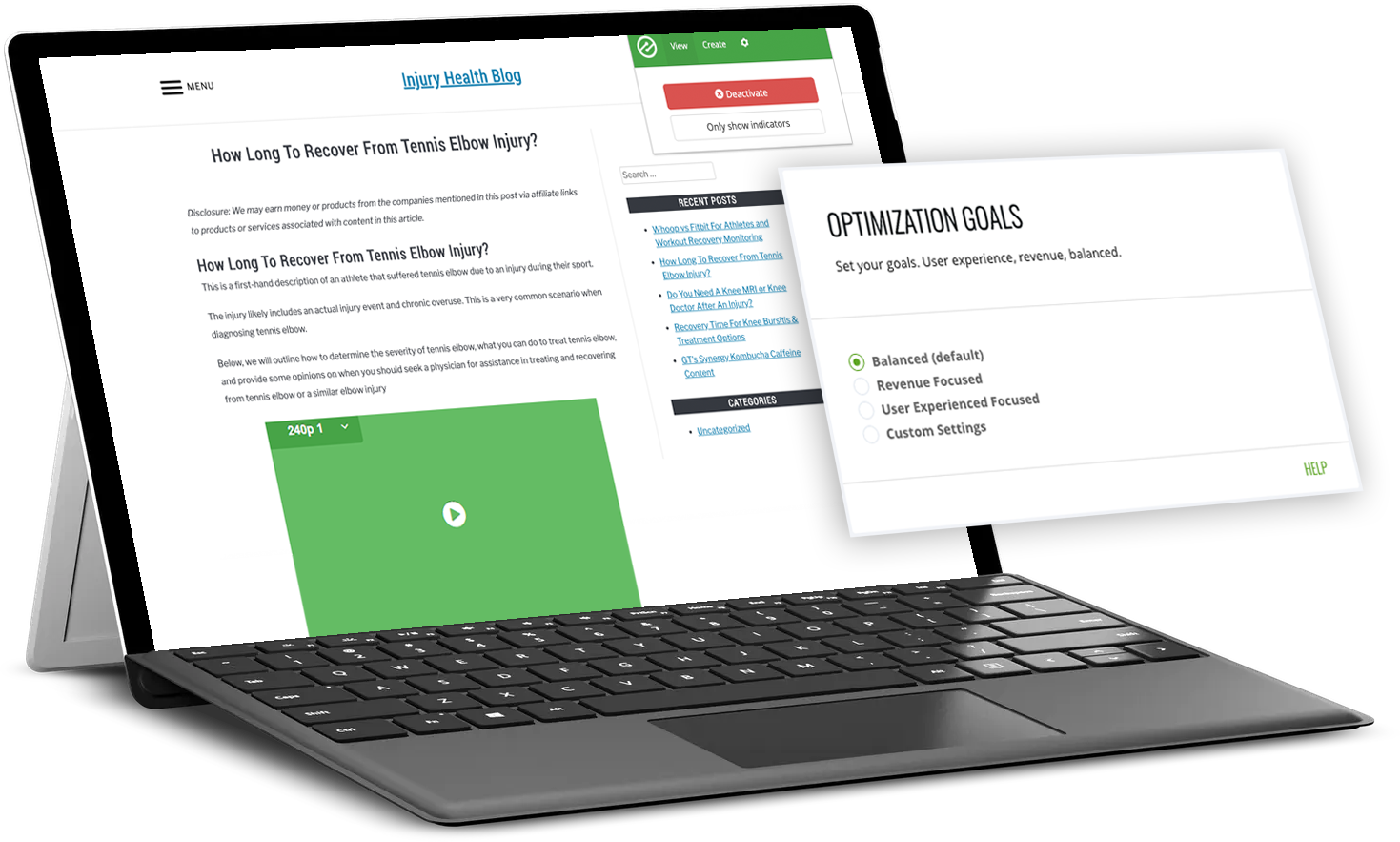 Ezoic's A.I. & video ad monetization
Video ads are powered by Ezoic's artificial intelligence, which learns both when and where the video ads and the video player should appear for each visitor. Publishers can set location preferences and goals that balance UX and the revenue they'd like to achieve—Ezoic does the rest.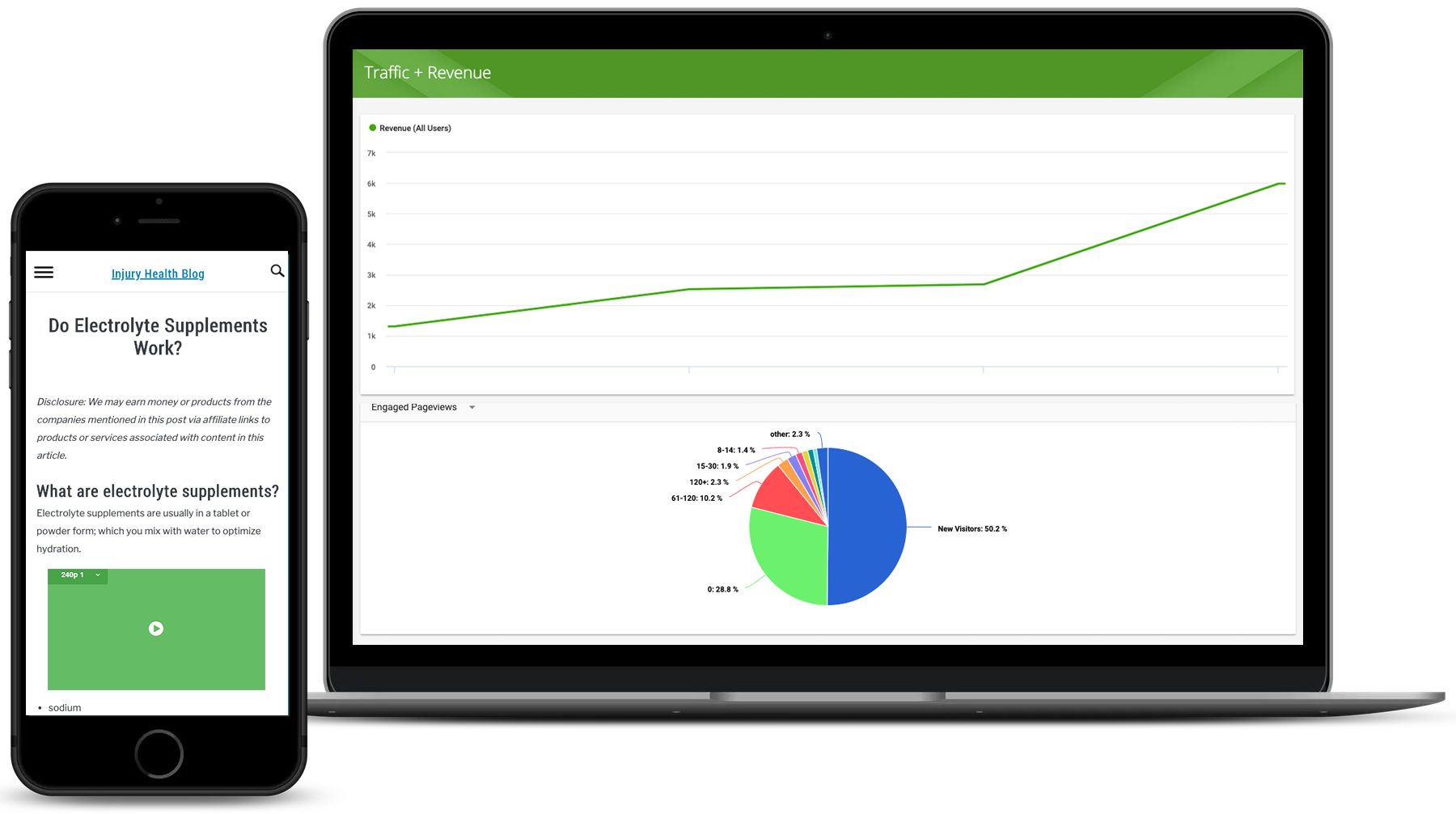 An SEO-friendly video player
Ezoic was designed so publishers could inject video on to any pages of their site with relevant videos uploaded to Ezoic. Publishers can choose where, how, and what type of videos appear on their pages. Ezoic will learn how to adapt to these preferences to generate more website traffic, improve user experiences, and generate more video ad revenue.
How To Get Started
Setup is easy, secure, and requires no technical experience.
1. Create an Account
No credit card, no contract. Always starts with 30 days free.
2. Integrate with Ezoic
Three integration options & real humans available 24/7 to help.
3. Configure Features
This is where you get to play with settings & Ezoic's advanced testing.